It was March 2010 when a new variety show called 'Liza and the Three Gods' made its debut on Hong Kong television starring veteran Liza Wang and three erstwhile supporting players Wong Cho-Lam, Louis Yuen and Johnson Lee who were known collectively as the 'Fuk Luk Sau' (or the 'Fortune Buddies' in English). With their impersonations of other celebrities such as Andy Lau, Jacky Cheung and even Lady Gaga, as well as their witty banter, the trio rode the fast-track to fame, and within seven months, had become so popular that they were able to command their own concert in December 2010.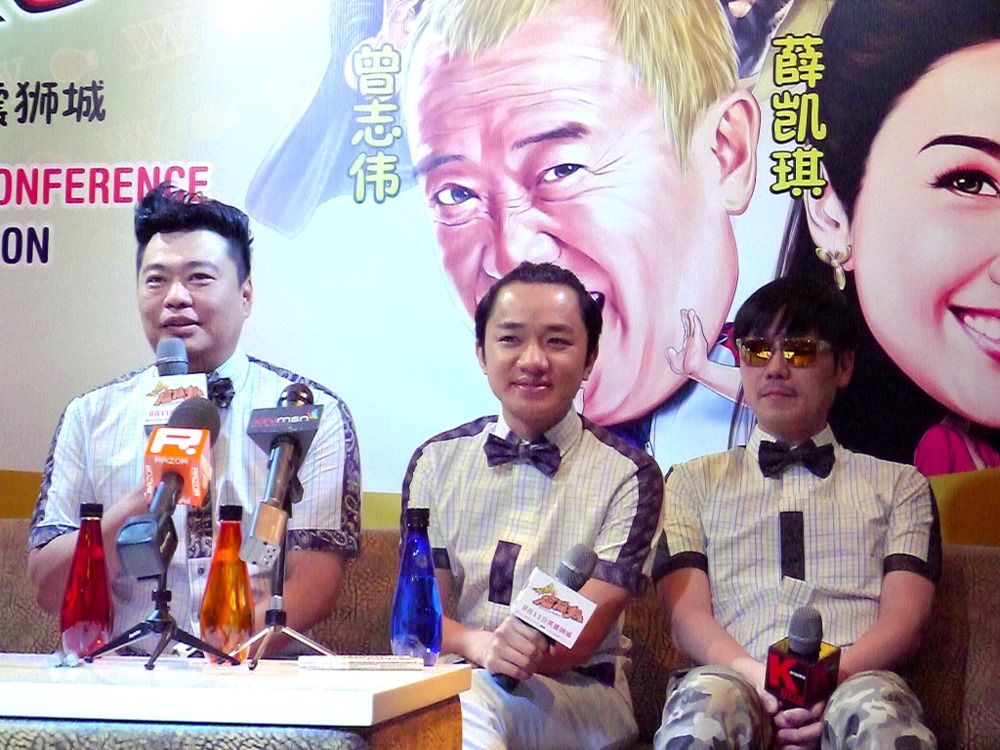 Since then, Cho-Lam, Louis and Johnson have brought their 'Fuk Luk Sau' concert to as far as the United States, and have also completed filming a TVB drama called 'Super Snoops' specially built around their popularity. That's not all- immediately after filming wrapped on 'Super Snoops', the trio dived straight into uncharted waters again with the production of their first movie entitled 'The Fortune Buddies' opening in cinemas this week. The latter is also the reason why the three actors have taken time off their busy schedules to make a trip down to our sunny island.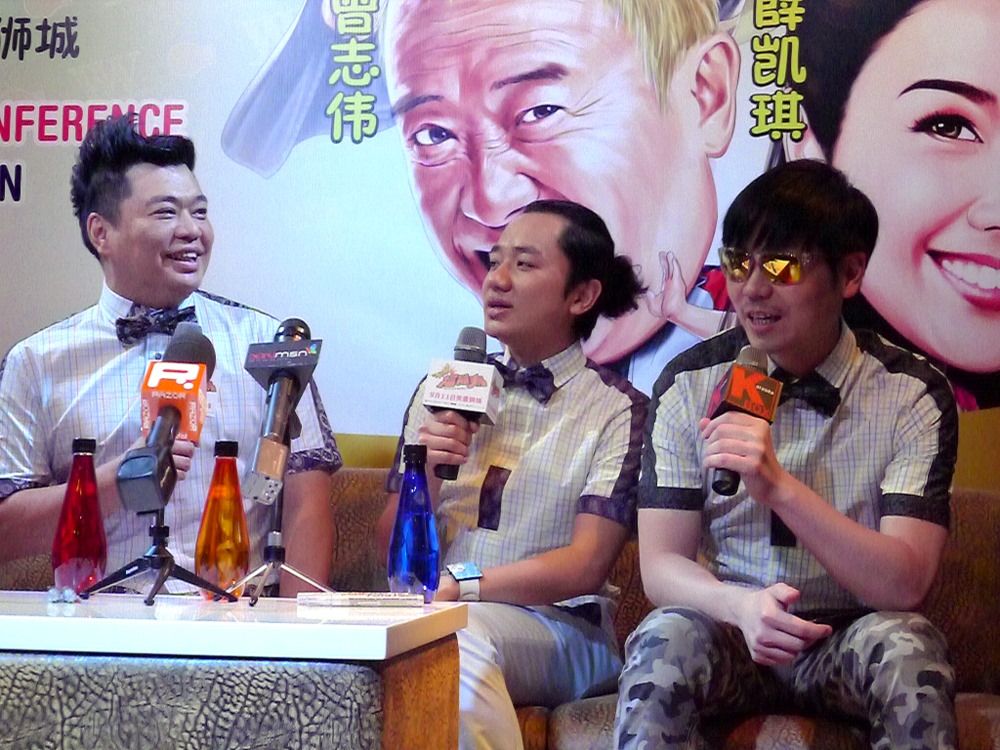 "It's an unbelievable journey," said a reflective Johnson Lee, looking back at their meteoric success over the past year. While it has been a tiring one going from concert to drama to movie, the 37-year-old actor added that it is one that he is glad to be sharing with his fans, to whom he dedicates this movie to. None of it was easy, least of all filming the movie, for which the actor had to endure 20-hour filming days so that production (which began in June) could be completed in time to make it for the deadline just two months later.
Cho-Lam concured that it wasn't easy making the leap from the small screen to a much bigger canvas. "This was the first time that the 'Fuk Luk Sau' was filming a movie together and we were pretty much unfamiliar with how it would turn out," he said. "So we left it in the hands of the scriptwriter [Wong Yeung Tat] and director [Chung Shu Kai]." Certainly, it also helped that Cho-Lam had previously collaborated with the director on two Chinese New Year movies- '72 Tenants of Prosperity' and 'I Love Hong Kong- albeit in supporting roles and not in the capacity as one-third of the 'Fuk Luk Sau'.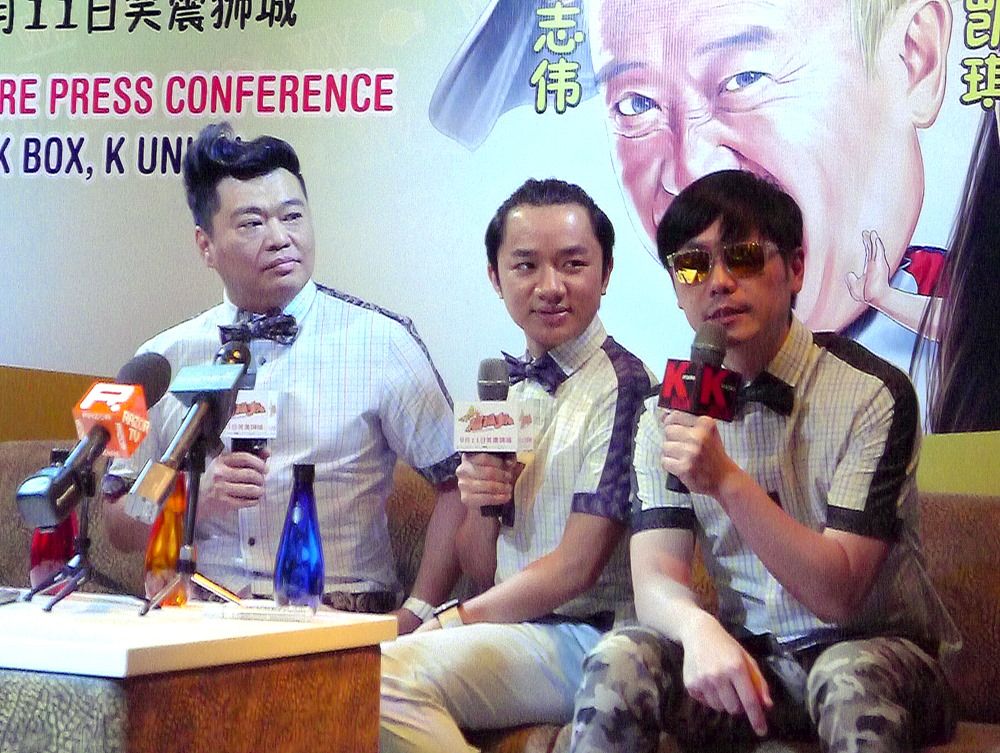 He is also grateful of the support that the film has received from numerous TVB actors, including 'Laughing Gor' Michael Tse, Maggie Cheung, Fala Chen and Bosco Wong. Of their involvement, Louis Yuen said, "Even though we were essentially from the same TVB family, we couldn't just count on this, so if you observe carefully, you'll realise that each supporting role, no matter how small, was tailor-made based on their individual personas." Assembling the bevy of stars akin to the aforementioned CNY films was also part of the plan to boost the appeal of the film, which Louis said was meant as a form of encouragement for the Hong Kong people.
"We wanted to channel the voices of the people in the movie, so we built the film around relatable themes such as employment or rather unemployment," said Louis. "We also wanted to take many of the unhappy circumstances facing the ordinary Hong Kong folk today and give it a positive spin." The message of hope and optimism is also a common theme across many of the 'Fuk Luk Sau's' performances, as well as the multi-talented Cho-Lam's music albums.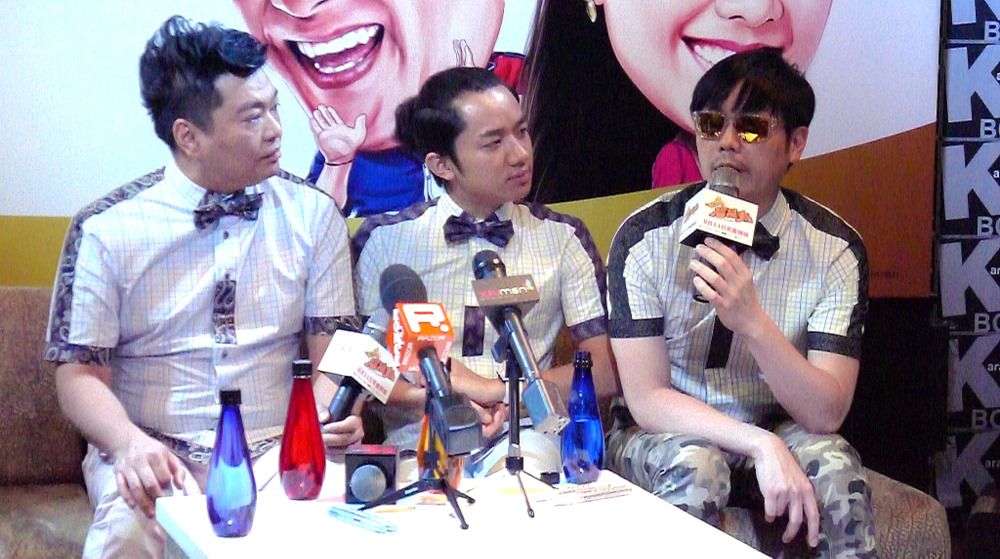 Cho-Lam added that the theme of wrestling was also chosen to fit into the premise of the movie. "There is a never-say-die attitude associated with the sport," he said. "And it's especially ironic to see how these three unemployed 'losers' still have to lose deliberately on stage at first just so they can entertain the crowds. I think this makes the turning point at the end of the film where they stand up and persevere against their much stronger opponents even more poignant."
Of course, the same attitude is what has helped them to get to where they are today. Cho-Lam recalls that after graduating from the Hong Kong Academy for Performing Arts in 2003, he started out in the TV industry working as an extra earning a mere HK$800 (or about S$130) each day. Louis too started out in the 1990s working as an extra- his daily earnings around HK$100 when he acted in a Stephen Chow movie then. These humble days are perhaps also the reason why despite their newfound popularity, the trio have no airs about them.
"This is the first time we're making a movie together," said Cho-Lam. "And we hope that audiences will come and support us and let us know what they think of the film- whether good or bad comments, as long as they are constructive, we are always willing to listen and to improve." The humility will certainly go a long way, as will their mutual chemistry, which was plainly evident to everyone in the room during their banter at the press conference. Now let's hope they will bring their concert to Singapore one fine day!